Enjoy the benefits of Outdoor kitchens and BBQ's
Stylish Kitchens fitted to high specification
New entertaining space
Increases time spent outside
Increases the value of your home
Can withstand the elements
Outdoor Kitchens & BBQs
Due to the stunning sunshine and glorious climate here in the UAE, it's no surprise that many homeowners use their outdoor space as a place to eat, host family gatherings and spend time with friends.
At Easi-Landscapes, we have years of experience helping our clients enhance their gardens and outdoor space, supplying and installing a variety of products that help you make the most of your home.
From outdoor dining areas such as outdoor kitchens to BBQ areas where you can grill food for all the family, we always take a bespoke approach ensuring our clients receive a product that specifically meets their requirements.
Fire Pits
As well as BBQs, outdoor kitchens and other outdoor dining elements, at Easi-Landscapes we also provide quality garden fire pits to customers across the UAE, including in Dubai and Abu Dhabi.
Fire pits are excellent at creating al fresco dining spaces in those winter months, offering a relaxing place where you, your family and your friends can sit, eat and enjoy your time together.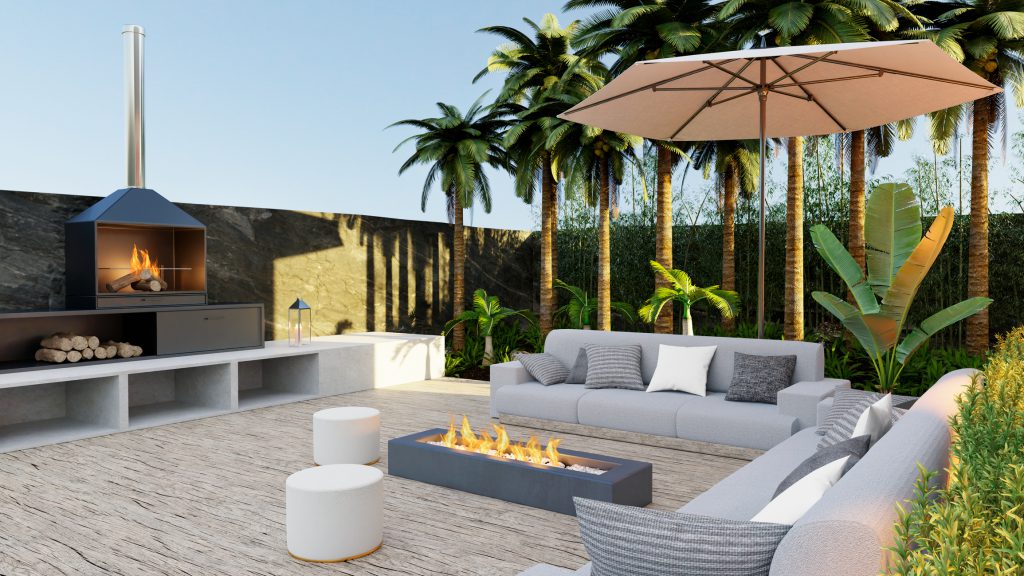 All of our clients receive a comprehensive service, and in addition to the supply, and installation of products, we also offer a committed outdoor kitchen design service. This involves visiting your property, tailoring our service specifically to you and lifestyle before delivering an outdoor dining experience that you can make use of all year round.
Whether you need a dining table outdoors, fire pits, BBQs or any other outdoor living elements, Easi-Landscapes is here to help.
To find out more, send us a message on WhatsApp and a member of our team will be in touch.
Transform your garden
in 5 easy steps
Make an enquiry with our team by getting in touch via WhatsApp, completing our online form or giving us a call on +971 (4) 401 8531
A member of the Easi-Landscapes team will visit your property for a site visit, making sure our landscapers can provide you with the very best service.
Our leading designs will craft an outdoor living experience that perfectly suits the unique specifications of your property
Installation will be scheduled for a time and date of your convenience, with our in-house team carrying out the work
Sit back, relax and enjoy your brand new outdoor living space